The 2018 ECA Junior and U23 Canoe Sprint European Championships in Auronzo di Cadore finally brought the first medallists. All medals of the day were awarded in the 1000 metres events. Biggest Italian hope for the medal Carlo Tacchini defended his U23 European Champion title he won last year in Belgrade in men's C1 1000 metres final. Rasmus Knudsen from Denmark also repeated his success from the previous years winning gold medal in men's K1 Junior 1000 metres final.
Italian 2016 Olympian Carlo Tacchini was considered one of the main favourites in men's U23 C1 1000 metres final and fans had high expectations. It is not surprising though. Tacchini was not only competing in his home country, he was also the defending European Champion in this event. Last year he won gold medal in Belgrade and set the best European time in this event at Junior and U23 Canoe Sprint European Championships.
This time he crossed the finish line with more than a second advantage over Leonid Carp from Romania and Vadim Korobov from Lithuania.
"It was a lot of pressure and hard to repeat the race from last year. I did it, I am so happy, it is so great. Auronzo is a beautiful place and the crowd was amazing," said Tacchini.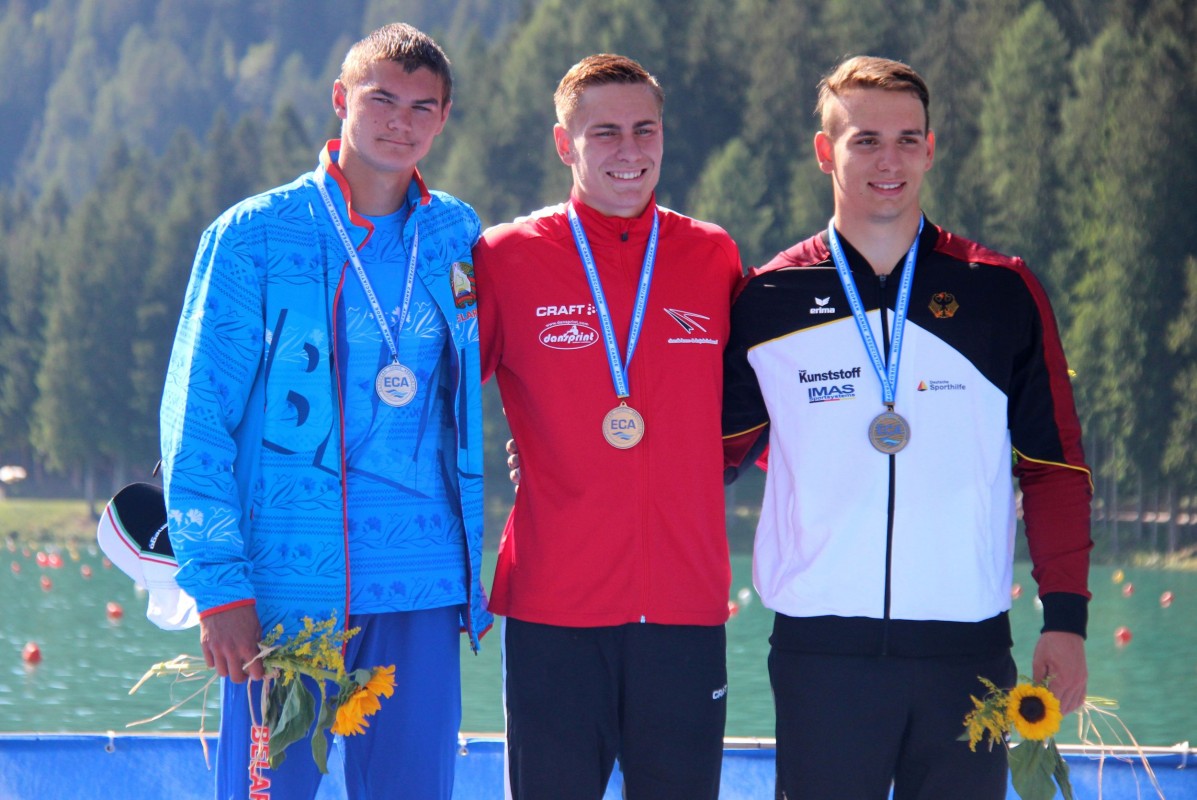 In the first final A of the day Danish kayaker Rasmus Knudsen also repeated his success from last year. He defended his Junior K1M 1000 metres European Champion title from Belgrade, he was the best also in 2016 when he set the best European time in this event.
After another gold medal in his collection Rasmus Knudsen said, "I don't know if I expected this win, but I knew I was big favourite, because I was a double European Champion. But I had a feeling in the heats I will do it again. I was very nervous in the first 250 metres, but when we reached the 500 metres I just renew energy and after that I knew I could do it."
Anton Novak from Belarus picked up silver medal in K1 junior 1000 metres final, while Moritz Wehlend from Germany finished third.
Rebeka Simon from Great Britain who was the 2017 U23 K1W 1000 metres European Champion fought hard to repeat this result. She was well on the way, but at the end she had to congratulate two athletes and finished third. It was Blanka Bordacs from Hungary who succeeded her on the throne and Paulina Paszek from Poland won silver medal. The race was very tight as only 0.040 seconds divided the first two boats.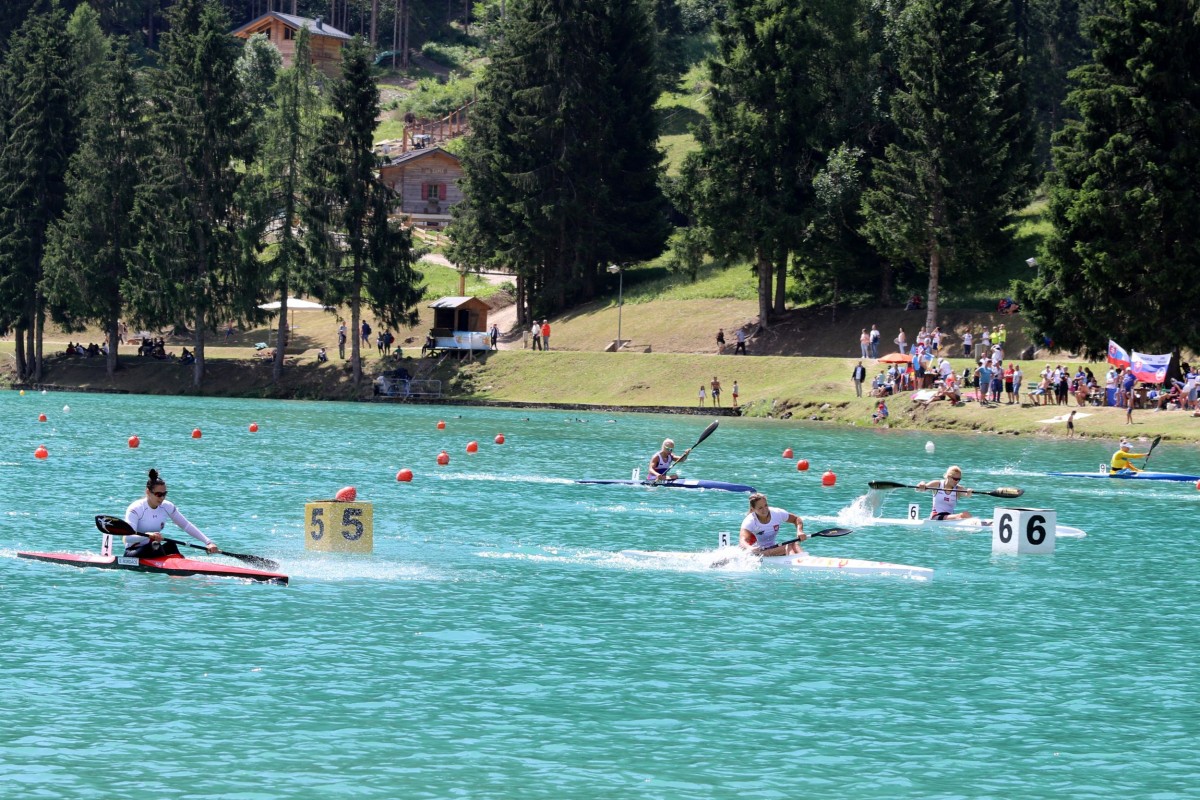 In men's K1 U23 final Belgium's Artuur Peters won the European Champion title. Amund Vold from Norway and Oleh Kukharyk from Ukraine joined him on the winner's podium. Ukrainian kayaker was last year's European Champion in this event and this year he finished third.
Slovakian anthem played in honour of Samuel Balaž and Tibor Linka who were the fastest crew of men's U23 K2 final race. Luca Beccaro and Tommaso Freschi from Italy were second and Dzimitry Levanchuk – Uladzislau Sukhanosau from Belarus third.
In men's U23 C2 1000 metres event Romanian duo Catalin Chirila and Stefan Strat celebrated European Champion title in front of Vladislav Lukashuk and Ivan Patapenka from Belarus and Noel Dominguez and Gonzalo Martin from Spain who were third.
Laura Plesca from Romania is the new Junior European Champion in women's 1000 meters event. Sofie Kinclova from Czech Republic picked up silver medal and Helene Fabrin – Brasted from Denmark won bronze medal.
Arcadii Goncearou from Moldova was the fastest canoeist of junior 1000 meters final. Manuel Fontan from Spain won silver medal and Adam Kocsis from Hungary was third.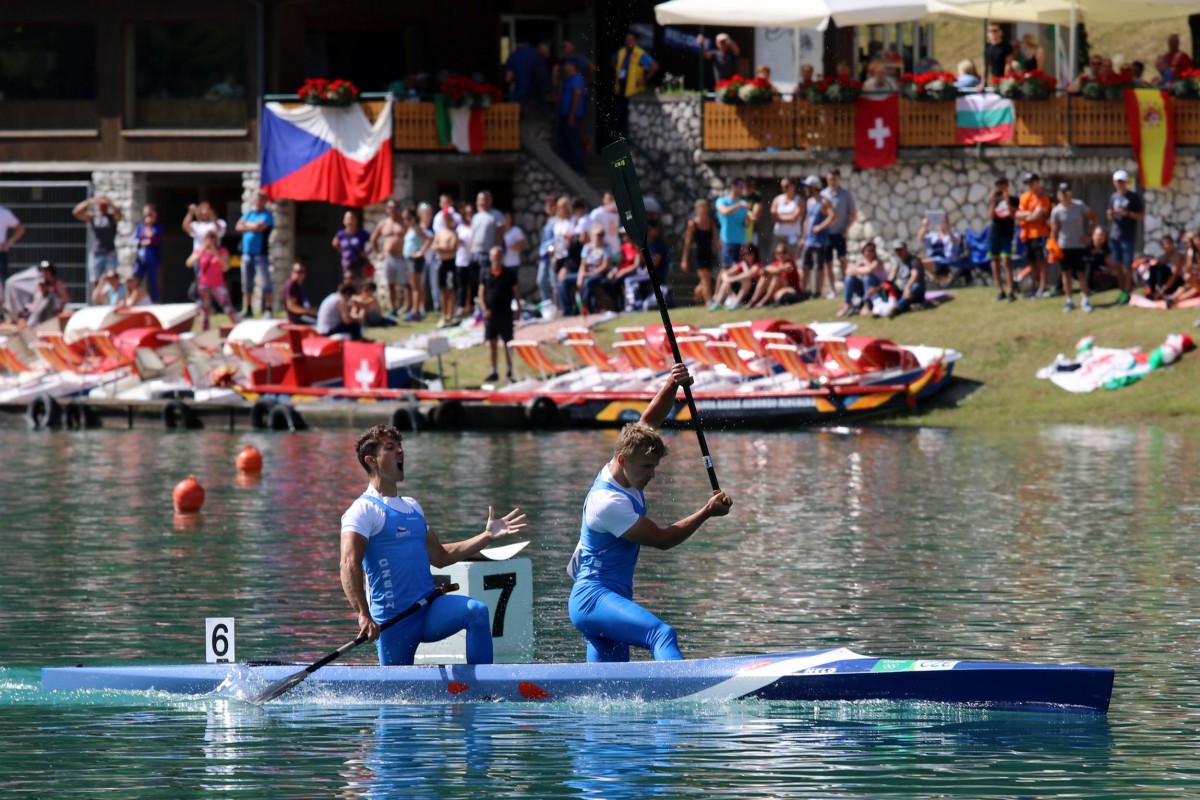 There were two more sets of medals awarded today. Kiryl Smalianik and Uladzislau Litvinau from Belarus were the best in K2 junior final, closely followed by Vilem Kukacka and Jan Vorel from Czech Republic and Mauritz Hennies and Elias Kurth from Germany. Junior C2M final brought the most joy to Czech team. Jiri Minarik and Jiri Zalubil were the fastest crew of the event. Aliaksandr Hatalski and Vitali Asetski from Belarus were second and Sergei Nemov and Kirill Romanov from Russia third.
On Sunday paddlers will fight for all the remaining medals in the 500 and 200 metres events.
Results: http://www.europecanoeevents.com/live-results?gmt=2&gmt2=-120
Thank's to Nina Jelenc – Eca press office